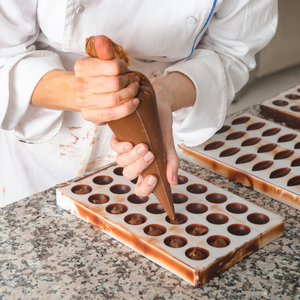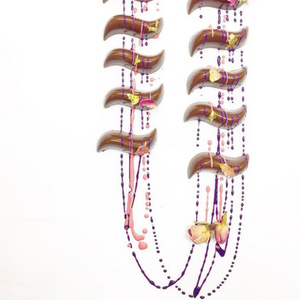 Regular price
Sale price
$249.00
Chocolate Masterclass Level 2
---
This class is chocolate lovers who have taken the Level 1 Chocolate Masterclass. These treats will be so beautiful you may find them difficult to eat.
This is a 3 hour class
In this 3 hour creative and colourful class, chocolatier, artist and pastry Chef Heather Brown will show students how to exhibit their artistic talents by creating beautiful, jewel-like, filled bonbons and delicious chocolate bark using a variety of toppings.
In this class you will learn:
How to paint, cast, fill, cap, and un-mold your own beautiful bonbons 

How to create a variety of rich fruit and nut barks

How to paint, swirl, and splatter your chocolate

How to work with tempered chocolate, cocoa butter, and polycarbonate molds
You will leave this class with: 
10 colourful bonbons with 2 types of fillings
A variety of chocolate bark garnished with toppings of your choice
Pictures are for display purposes only. Our chef will talk you through any pictures shown, but for efficiency, you will be guided by her in terms of design.
All ingredients and equipment is provided, you do not need to bring anything with you. Our chef will ensure that you work at a pace suitable for you. 
If in doubt about your suitability for this class, please call us to discuss before you book a place.
Level 3 will follow in fall. You must have completed Level 1 and 2 to attend Level 3.