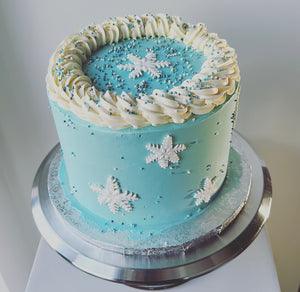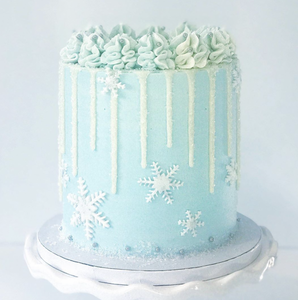 Regular price
CAKE DECORATING - Ultimate Winter Wonderland Cake Class
---
This class is perfect for absolute beginners! And you will achieve all this in just ONE day! Wow!
This is a 2 hour class 
We will pre-bake the cakes for you and make buttercream so you can get to the super fun decorating part. This cake is instructed by one of our very talented chefs. What a great way to spend a day! The best part: you will bring home a cake topped with the most beautiful decorations and covered in luxurious buttercream. It will be the most delicious and gorgeous cake you ever set your eyes on. 
In this class, you will learn:
How to prepare your cake for decorating

How to use essential cake decorating equipment to achieve smooth straight sides

How to use piping tips and sprinkles to decorate and finish your winter wonderland cake 
You will go home with:
A vanilla cake that you will have decorated yourself

New understanding of American buttercream 

New skills in decorating using current/on trend techniques and designs

An understanding of layering cakes

An understanding on how to replicate future buttercream cakes

An understanding of how to work with decorating tips 

Vanilla cake recipe, American & Swiss meringue buttercream recipe (emailed to you after class)
Pictures are for display purposes only. Our chef will talk you through design elements in any picture shown, but for efficiency, you will be guided by her in terms of design.
All ingredients and equipment, including transport boxes for your cake course are provided, you do not need to bring anything with you. The teacher will ensure that you work at a pace suitable for you. 
If in doubt about your suitability for this class, please call us to discuss before you book a spot. 
If you would like, you can bring a large bag to carry your cake home. We provide sturdy cardboard boxes, but you may find it easier to carry your cake in a reusable tote bag especially if taking public transit to class.
Add a "Good Things Come To Those Who Bake" Apron to bring home with you after the class. Simply click the Apron add-on in the drop-down! 

Please note, classes may be held in our upstairs studio which is accessible by stairs only, please email us if you need to be accommodated. 

Please use our hashtag #ledolci and tag us @ledolci when posting your class creations on social media. We'd love to share your content with our followers.