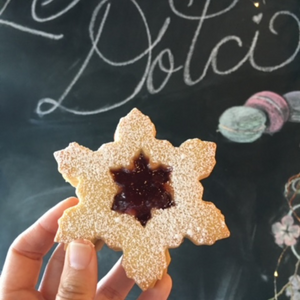 Regular price
Ho, Ho, Holiday Cookie Baking
---
Join our Holiday Cookie Baking class!
This class is perfect for absolute beginners! And you will achieve all this in just ONE day! Wow!
This is a 3 hour class 
During this class you will be making 2 types of cookies! Sugar cookie dough that will be turned into jam filled Linzer cookies and a chocolate crinkle brownie cookie dough.
Your chef will bake your Linzer cookies so you can get to the super fun decorating part. Crinkle cookies will be scooped in class and be boxed up unbaked so you can bake them at home.
Our cookie classes are taught by one of our very talented chefs. What a great way to spend an afternoon or evening! The best part: you will bring home yummy cookies that YOU will have made.
In this class, you will learn:
How to make sugar cookie dough and chocolate crinkle cookie dough  

How to properly roll out sugar cookie dough  

How to cut rolled out sugar dough into shapes and perfectly bake them

How to properly fill sugar cookies with jam and turn them into Linzer cookies 

How to scoop, roll, and store your crinkle cookie dough
You will go home with:
Roughly 12 jam filled cookies depending on size and shape of cutters

A new understanding of sugar and crinkle dough 

12 unbaked crinkle cookies for you to store in your freezer until you are ready to bake them

Linzer and crinkle cookie recipe - you will get this once you book the class in your confirmation email 
Pictures are for display purposes only. Our chef will talk you through design elements in any picture shown, but for efficiency you will be guided by her in terms of design.
All ingredients and equipment, including transport boxes, for your cookies are provided, you do not need to bring anything with you. Our chef will ensure that you work at a pace suitable for you. 
If in doubt about your suitability for this class, please call us to discuss before you book a place. 
If you would like, you can bring a large bag to carry your cookies home. We provide sturdy cardboard boxes, but you may find it easier to carry your cookie box in a reusable tote bag especially if taking public transit from class.
Please use our hashtag #ledolci and tag us @ledolci when posting your class creations on social media. We'd love to share your content with our followers.